Miami has many nice beaches. If you have decided to relocate and be close to one of them, the choice won't be easy. There are so many famous beaches in Miami. And, you will have to choose the one that suits you the best. Maybe you are searching for a quiet corner, where you can enjoy the sun and clear waters. Or you are a more active type. And you are expecting various amenities and entertainment at the beach. So, the best way to make a choice is to learn about the Miami beaches. On the other hand, choosing the Best Movers in Florida is an easy task. You'll just need to give them a call and book your move.
Famous beaches in Miami are attracting numerous tourists
This is not a wonder, since Miami beaches are among the most beautiful places in the USA. Moving there, you will enjoy miles of pristine coastlines and crystal clear ocean waters. Besides, alongside the beautiful south Florida beaches, you will find posh boutiques, delicious restaurants, and an exciting art scene. The possibilities for entertainment are endless. As well, you will be able to discover numerous quiet corners. After moving, you also will notice that most of the residents are favoring such places. They like to dip into the ocean waters and enjoy the sun away from the popular beaches in South Florida. And away from the crowd.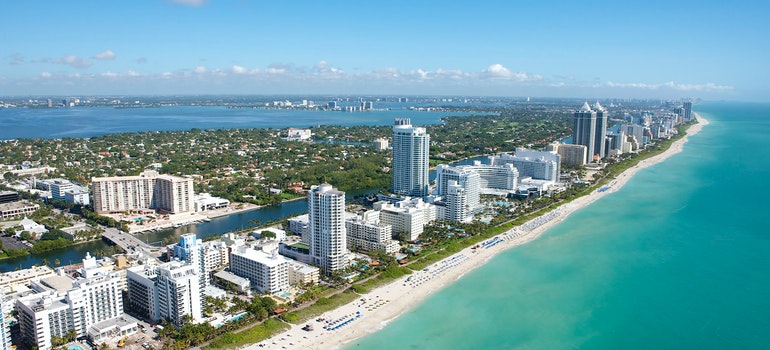 Some of the most famous beaches in Miami
There are so many beautiful beaches around Miami. For sure, you will have a lot to check and discover after Miami movers relocate you to this paradise-like place. Each beach has its own charm that attracts so many people. At some beaches, you will be able to enjoy windsurfing. Or join the beach volleyball game. Or to exercise the stand-up paddle boarding. At some places, you will be able to walk the boardwalk. You may also find it interesting to sit in one of the restaurants and simply enjoy the view. And, you should not be surprised if you see some celebrities on the beach. Miami beaches are known as places to see and be seen.
South Beach
Known also as SoBe, this is one of the most known beaches. Although people think that SoBe is the longest and only Miami beach, that is not the case. Actually, SoBe is only a section of Miami Beach. The miles of sandy beaches that present Miami Beach is actually a barrier island chain running across Biscayne Bay.
In case you decide to move to this part, there are many condos available. After the residential movers in Miami move you in, you will be able to enjoy the scenic view of the ocean.
What is South Beach famous for?
This iconic strand is the place where Art Deco architecture meets high-end modern design. SoBe is so popular that all other Miami strands are compared to it. Locals consider SoBe too crowded and touristic. But, visitors are simply loving it. So, when you have enough sunbathing, you can easily join other fun activities. So, you can go yachting, snorkeling, surfing, or stand-up paddle boarding.
Day or night, the SoBe is the main beachfront partying ground. And, if you just wander off the beach, you will find many interesting museums, galleries, and shops. And some of the most famous restaurants in the area. In case you plan to move your business to Miami, SoBe could be the right spot for you. Especially if you are in the entertainment or hospitality industry. If so, you can rely on the excellent services of commercial movers in Miami.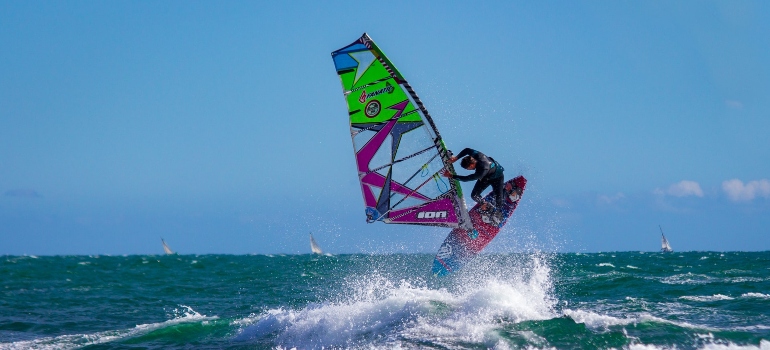 South of Fifth
Know also as SoFi, the South Beach is located at the southern tip of Miami Beach. It is the most luxurious neighborhood in the area. And it is home to the wealthiest Miami residents and celebrities. Most of the apartment buildings in SoFi have 24-hour security surveillance. The area has beautiful white sands and clear water beaches. Besides, the residents may enjoy the outdoor pools, with sundecks and hot tubs. Also, many tennis courts are available in this neighborhood.
In case you are coming here as a visitor, the parking can be a nightmare. The best chance to park your car you will have early in the morning. The advantage of this beach is that there are no crowds. So you can enjoy sunbathing and swimming in peace.
Mid Beach
It is located between the SoBe and North Beach. Although it is a rather peaceful place, here are located some of the most stylish hotels. It is also known as family-friendly and one of the most relaxing areas of Miami Beach.
In case you are living in some more busy area, you may decide this place will suit you better. If so, you easily relocate with the assistance of the local movers in Miami.
North Beach
It is located between Mid-Beach and Surfside. The North Beach is a perfect place for those traveling with kids. Or simply said, this is a perfect family-friendly destination. Besides the nice sunny beach, there is also a park where you can take your dog. Also, it has a playground where your kids can find various entertainments. And, you will even find picnic pavilions with grills. So, North Beach is offering activities that can occupy a family during the whole day.
Surfside Beach
Surfside Beach is best known for its nice resorts. And for its pristine sandy shores. It is located between North Beach and Bal Harbour. This small sandy beach is a favorite relaxing spot for locals.
Surfside Beach is known for small, family-run businesses. There, you can easily find accommodation in one of the large condominium complexes. Or you can opt for buying a bungalow-style home with a garage. Also, if you want to rent storage Miami offers, this is the right place. Most of Miami Beach's storage facilities are located in this place.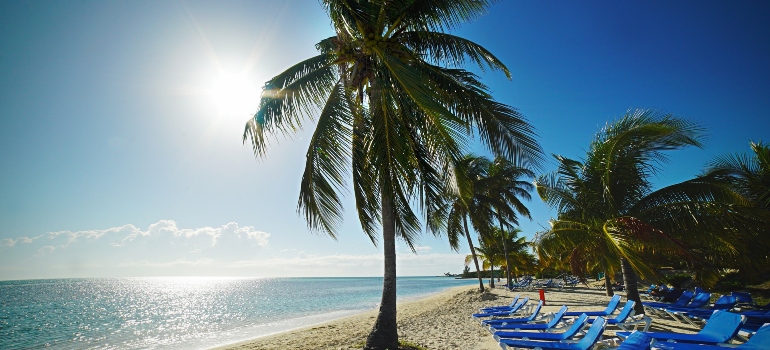 List of other exotic beaches
The list of the famous Miami beaches is not ending here. There are many more that you will be able to explore after moving. So let us list them here. This list can help you check out some of these places yourself:
Bal Harbour Beach
Haulover Beach Park
South Pointe Park Pier
Matheson Hammock Park
Sunny Isles Beach
Oleta River State Park
Hobie Beach
Crandon Park
Bill Baggs State Park
Even with this list, we were able to cover only a small portion of Miami's exotic beaches. So, we are sure that, soon after settling down, you will continue to explore your new area.
Moving to Florida
Moving to this wonderful country, we are sure you will enjoy all that it has to offer. And especially, you may enjoy some of the famous beaches in Miami. We are also sure that you will find some more hidden gems in your new country. And some of them may become your best beach in Miami. Whatever the case, you will be surrounded by white sandy beaches. And with crystal clear ocean waters. And we are sure that, besides beaches, you will love the nice weather of the Sunny State.