Decided to move to Florida? Haven't found the housing yet, or renovating your old home and need space to put away your belongings? Well, you'll need some storage units to store your belongings. Wonder how much does a storage unit cost in Florida? Well, there are many different factors that affect the overall storage price. But don't worry. In this article, your Best Florida Movers will try to provide you with as many details concerning storage as possible. But that's not all. We'll help you decide what type of storage is best for you. Stay with us and find out more about storage traits and average prices.
Why do you need storage units in the first place?
There are many reasons why you would need storage space. Whether you are moving locally or long distance, you should consider using storage if:
Don't know the moving date
Don't have enough space in your new home
Need space for storing furniture until you find a home for renting / buying
Don't want to get rid of some things or need time to declutter
Renovating your home
Moving your business
Want to store your vehicles, etc.

If you don't know where to store your belongings before the move, or you have a surplus of items, use storage units
If your reason is one of these, we recommend you book a storage unit. However, if you don't know which one, check out storage Miami and contact us for more information.
Types of storage units
There are two main types of storage units:
Self-service storage: I's name suggests that you rent by yourself for a short-term period. If you use this type of storage, you are responsible for delivering/picking up your belongings and packing. Also, you need to keep track of the items you have stored. Keep in mind that you are responsible for securing your belongings. Self-storage service sometimes does not include insurance. This type of storage is usually very affordable. 
Full-service storage: This type of storage is arranged to keep your belongings safe from damage. Also, you'll get both insurance and 24/7 surveillance. If you choose this option, you won't have to deal with loading and unloading. It's included in the service. Also, this type of storage is usually climate-controlled, so keep this in mind if you have any valuables. It is often more expensive than self-storage.
How much does a storage unit in Florida cost?
It would be hard to state the final price of renting a storage unit since it depends on many different factors. However, an average cost can be calculated. For example, Florida's monthly average storage cost is $100, depending on the storage unit location. Many factors determine storage cost, the most important being storage size. But, before we go through the other factors, let's see what storage unit sizes are there.
Storage unit sizes
There are many different standard storage sizes. Our storage Florida offers the following. The smallest standard storage size is 5×5, where you can put a couple of items such as boxes, mistresses, or a smaller wardrobe. Then we offer 5×10, and you can use it as temporary storage for storing seasonal items and furniture. Next, a 10×10 storage unit is often used for storing a couple of bedrooms. The larger the storage size is, the more stuff you can store. The other sizes, such as 10×15, 10×20, and 10×30, are used for storing almost the entire house and vehicles. The price depends on the size you choose and the number of items you want to store.
Average cost by unit size
The average for a 5×5 storage unit is $41 a month. Larger sizes cost more:
5×10 storage units average at $59 per month
10×10 storage units cost about $95 per month
10×15  storage units average $113 per month
10×20 storage units $133 per month
10×30 storage unit may go up to $290 per month
Factors that raise storage unit costs in Florida
If you're searching for a safe place to store your belongings before or after the move, or you have surplus belongings that you don't want to give up, you definitely need a storage facility. But, if you decide to use it, you'll have to pay a monthly fee. It varies from $100 to $300. The price differs from state to state and depends on several factors such as:
Where you live: Distance plays a crucial role if you rent full-service storage. Since moving your belongings to the storage facility is included in the price, distance will dictate the final price.
Storage size: The bigger the storage unit you rent, the bigger the price will be.
Features: If you need specialty storage features, such as climate control, moving supplies, packing materials, freight, and delivery acceptance, you'll pay higher prices.
Storage availability: If you need access outside working hours, or you need immediate storage, you'll probably have to pay more.
Insurance: If you want your belongings to be insured, insurance will add to the price.
Taxes and fees: Some storage services include extra fees. Ask about them before signing the contract.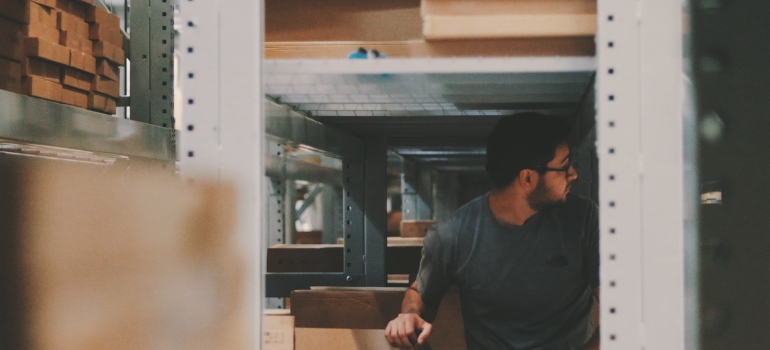 Need storage space? Contact Best Movers Florida
Since the storage unit cost in Florida depends on many different factors, it would be best to get estimates from moving and storage companies. Luckily, you don't have to search any further. Best Movers in Florida are at your disposal at any time. Feel free to request an estimate stating what kind of storage you need and providing the information about the number and size of your belongings, and we will give you a quote. We offer a wide choice of storage units across Florida. Our storage units are well developed, safe, and secure. Contact us and put away your valuables in a safe storage unit. Storing your items at our storage units, you won't have to worry about anything. We'll keep your belongings safe, with 24/7 surveillance. Also, you won't have to worry about the cost. We offer storage units at affordable prices.