Moving is stressful, especially when having a lot of fragile and valuable items. It can be a nightmare packing these items. You will feel stressed all the time thinking if everything will be ok if your belongings are safe during the transportation. That is why it's extremely important to pack properly your items. Here are some tips for packing fragile and valuable items for a long-distance move.
Packing materials
Paintings, antiques, porcelain, and music instruments are really demanding when it comes to packing. You need to pay more attention to these items than to the other ones. To avoid your fragile items from getting damaged during transport to your new residence, office, or storage unit, use the right materials and implement the proper packing techniques. Having appropriate packing materials is crucial to prevent damage to your valuable items. Then you need to pack it properly and load it onto the moving truck with caution in order to prevent damage. However, if you don't have the time to pack it on your own or you are afraid to do it alone, you can hire a reliable moving company to help you. If you have professionals at your side, it will be much easier.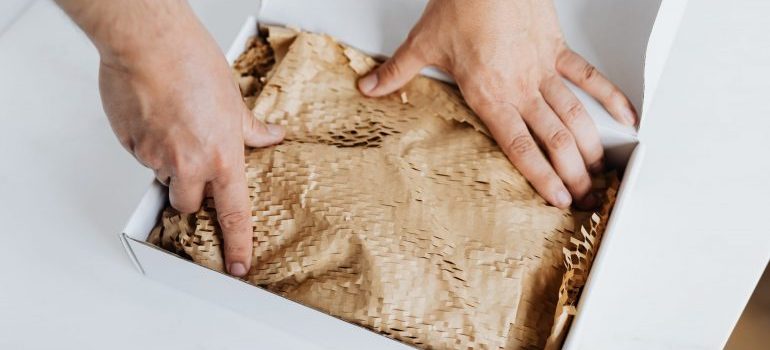 It would be good to have a lot of cushions, blankets, and other materials that will protect your items from breaking. You will be needing as well:
Boxes for packing fragile and valuable items for a long-distance move
Bubble bags
Markers
Newspaper or packing paper
Packing peanuts
Plastic furniture covers
Tape
Towels or rags
Labels
Furniture sliders
A dolly
For moving framed art, buying mirror boxes also known as art boxes is really going to pay off! If your moving budget allows it off course. Be sure that the boxes are few inches bigger on all sides than your frames. That way you will have enough room to additionally pad the box for more protection. It would be ideal to have an original box for each item but if you don't, make sure you find boxes of the appropriate sizes. Do not use already used or damaged boxes. This will not help to keep your valuable items safe.
Packing techniques for packing fragile and valuable items for a long-distance move
When you have gathered all the necessary packing supplies it is time to pack all of your items. It is important to apply the right packing techniques. Or, contact your movers and ask for packing services. They will do it a lot faster than you. But it is up to you.
If you will pack them alone, you need to follow these tips. In case you have some mirrors or framed paintings, you need to protect the glass. Blue painter's tape will do the job in this case. Place a big X on the glass (backside). Both strips of tape should run from one corner of the glass to the opposite one without touching the frame. Wrap each item into a glassine or packing paper. Then you can add a layer or two of the bubble bags and protect them with the tape. You can put a little bit more on the corners so they don't damage. In case you are preparing these items to store them, pack them well and search for the best storage units in Florida. Make sure you choose a climate-controlled storage unit.
Sculptures come in all shapes and sizes. This means that each piece is unique and you have to adapt your packing methods. Pay attention to the arms and legs on the sculptures, since they are more fragile than the torso. Cover the entire sculpture in plastic wrap. Then cut the bubble bag and wrap it around the weak points. You can wrap them with bubble bags too, to be sure that these pieces are safe. If you have more small sculptures, you can wrap them and put them together in one big box. For bigger sculptures, a crate would be ideal. When you pack them in the moving truck, make sure to place them so they won't move around.
Packing fragile and valuable items for a long-distance move
There are so many different items to pack. You can always use some trick to pack them and place them into a moving truck. But you can never be precautious enough. The kitchen is the hardest of all rooms when it comes to packing. If you have some porcelain items, be careful while packing them. Wrap each item with a bubble bag and put some inside as well. You can use packing peanuts for the bottom of the box and around each piece of pottery.
If you have some valuable lamp, that can be tricky. You should disassemble it first, take the bulb out, and then you can pack the lamp into a box. You should be careful with your electronics too. If you have the original boxes you can easily pack them. If not, try to find the best suiting boxes. Use a lot of bubble bags, towels, cushions to protect all the valuable items.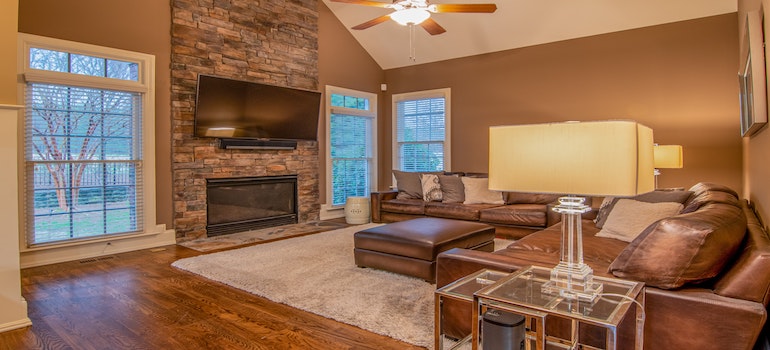 Hire reliable movers
Wherever you go and whatever you have to pack, it will be a lot easier to hire professionals. Contact some of the best long-distance moving companies Florida residents always recommend and let them handle all the work. It is really demanding and time-consuming preparing for the relocation. If you hire professionals they will take care of everything, packing materials, moving trucks, loading and unloading, and safe relocation.
If you decide to hire professionals, they will offer you insurance too. In case anything happens to your valuable pieces, your insurance will cover them. So try to find reliable movers. They will do it efficiently and prevent the damage.
Packing fragile and valuable items for a long-distance move isn't an easy task. It is important to start on time, gather all the necessary packing supplies and use proper packing techniques. This will help you safely pack and relocate your valuable items.