The City of Plantation is a northern suburb of Fort Lauderdale. It is located halfway between West Palm Beach and Miami. There are many summer things to do in Plantation FL. Visiting, or living in there, you will have easy access to many of the state's most popular attractions. Plantation, FL is particularly well-known for its large municipal recreation complex. And, both the visitors and the residents love it. The city was incorporated in 1953. Since that time, the city has been steadily growing. So, it has now about 93,000 residents. Are you thinking of joining them? If so, you can count on the excellent services of the Best Movers Florida.
Plantation's brief history
In 1931, Frederick Peters moved to South Florida, along with his family. They bought 10,000 acres along State Road 7/441. That was a rather convenient location, as the road was connecting Miami-Dade to Palm Beach County. Soon afterward, Mr. Peters hired architect Russell Pancoast to develop a City master plan. Mr. Peters's conditions were:
homes next to each other shouldn't look alike
commercial, industrial, and residential zoning districts had to be separated
a plot of land couldn't be smaller than the prescribed minimum size

Visiting Plantation Aquatic Complex is always a good idea.
The idea was to set so-called "long acres" plots. So, the people buying a home would have 2/3 of the plot for gardens and fruit trees. And, they could sell the surplus products at the farmer's market. 
City of Plantation today
In case you decide to move to Plantation FL, it is good to learn several facts about the city. Today, it is an attractive place, with a lot of interesting things for locals and tourists alike. And, you will share the city with 55 diverse cultures. This further means that you will have the possibility to learn about many other cultures. And, enjoy various national kitchens.
The median home cost in Plantation FL is $381,300. And that is higher than Florida's median home cost of $294,900. In case you are renting in Plantation, it will cost you $1,556 a month. However, over 64.4% of residents own their homes. And, living in Plantation, you may expect an average household income of $98,704.
Main employers in Plantation FL
In case you are looking for employment, moving to this city can be the right choice for you. Besides, with the best movers in Plantation, your move will be smooth and affordable. 
The biggest number of jobs you will find in the hospitality industry. Besides, you may also secure good jobs in the companies such as:
Magic Leap,
Florida Power and Light
University of Miami Sylvester Cancer Center
Bascom Palmer Eye Institute
DHL
National Beverage
Plantation General Hospital
Westside Regional Medical Center

Would you ever associate Florida with ice skating?
Summer things to do in Plantation FL
Plantation FL has something for everyone. So, be sure that by moving to this nice place, you will make good to all your family. And they will love exploring this city full of interesting places. So, during the summertime, you will have a lot of opportunities to go around. The reason is simple. Kids are on school vacations. And, in case you are not in the hospitality industry, you can also take some days off. So, here are the best places to visit during summer in Plantation FL.
Central Park and Plantation Aquatic Complex
Regardless if you are a kid, an adult, or a senior, you will find excellent entertainment here. Located on NW 2nd Street, everyone is allowed in for a symbolic fee. The Complex has two Olympic-size pools, including a shallow play pool for kids. Besides workout gym, and basketball courts, you can also take swimming lessons. And, you can fully relax knowing that your kids are supervised by lifeguards.
Plantation Preserve Golf Course and Club
In case you are a golf lover, you will enjoy this 18-hole championship golf course. First opened in 2006, it is one of Florida's most popular Golf Courses. It has challenging terrain, a beautiful clubhouse, and a stunning panoramic view. Also, it has a member-only practice area. Many golf lovers decided to move closer to this course with the help of local movers in Plantation.
Florida Panthers Ice Den
Would you ever associate Florida with ice skating? Probably not. However, the citizens are happy to have such an attraction in their place. In the middle of summer tropical heat, they can enjoy hockey and other popular activities on the ice. The facility belongs to the Florida Panthers hockey team. However, when they are not training, the Den is open to residents and tourists alike. You don't have skates? No big dill. You can easily rent them in the Den. And besides, you can take skiting lessons. This is one of the most popular summer things to do in Plantation FL. And it is attractive to both, kids and adults.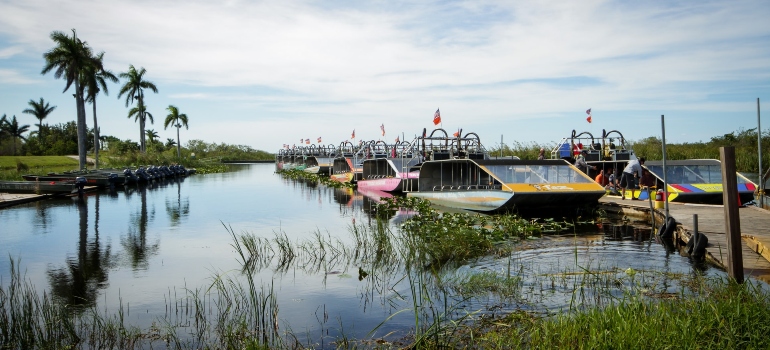 Parrot Island Scuba Adventures
This is a family-owned dive company. Scuba Adventures is an excellent solution for the strong summer heat. And, we are sure that you will enjoy in amazingly clear waters of south Florida. There, you will be also able to see several interesting shipwrecks. And the beautiful natural reefs. And, being in the company of the trained and experienced staff, you will be safe during the underwater adventure. You may even find a job in this amazing company. If so, you can use the services of residential movers in Plantation to ensure easy and fast relocation.
Other things to do in Plantation FL
We have presented just several places that you can enjoy in Plantation FL. However, the list of interesting places is much longer. So, besides those, you may also enjoy visiting:
Helen B. Hoffman Plantation Library Children's Room
Plantation Farmer's Market
Plantation Historical Museum
Coral Springs Museum of Art
Secret Woods Nature Center
Everglades
Coral Springs Center for the Arts
Big Cypress National Preserve
Deerfield Beach Boardwalk
Living in Plantation FL
The are many summer things to do in Plantation FL, regardless if you are a resident. Or if you are just visiting. However, in case you decide to move to the City of Plantation, make sure to follow the weather. This is even more important in the hurricane season. On the above city website, you will find much more information. So, as a resident, you will learn about the schools in the city. You will also learn a lot about utility providers, public transportation, etc. Being well informed is always good. And knowing the important news related to your new city can be even essential.