When it comes to Florida, it has an irresistible appeal, that boasts a tapestry of pristine beaches which is a natural playground for water enthusiasts. There are 5 best cities in Florida for water activities and we will gladly present them to you. You can always rely on Best Movers Florida for help with the relocation. The Florida coastline stretches over 1,300 miles and offers diverse water activities that are suited for almost any taste. You can choose from the Atlantic's surging waves to the tranquil Gulf of Mexico, the options are endless. That is why we are going to present you with 5 cities in Florida with various water activities, so you can then decide for yourself. Each of them offers a unique combination of great job options with a combination of affordable living options.
The 5 Best Cities in Florida for Water Activities
The 5 following cities are really among the best choices when it comes to water activities combined with a great quality of life. No matter which one you choose, you will not make a mistake. Each of them has its charm that will make you want to move right away to it. Here is the list:
Miami – Where Water and Luxury Converge
Key West – Dive into Underwater Wonders
Fort Lauderdale – Nautical Paradise
Clearwater – Tranquility by the Gulf
Naples is also among the best cities in Florida for water activities
We will now go in-depth regarding each city so you can have a clearer overview. This will also make your decision-making easier as you can see which city fits your needs the most.
Miami – Where Water and Luxury Converge
Miami stands as a magnet for those seeking both luxury and adventure along its sun-kissed shores.  The city's reputation is firmly rooted in its array of thrilling water sports, catering to all tastes. From the exhilarating rush of jet skiing to the serene rhythm of paddleboarding, Miami offers a diverse range of aquatic experiences that captivate enthusiasts. The iconic South Beach is the epicenter of various activities, where bronzed beachgoers partake in beach volleyball and kite surfing against the backdrop of glittering skyscrapers.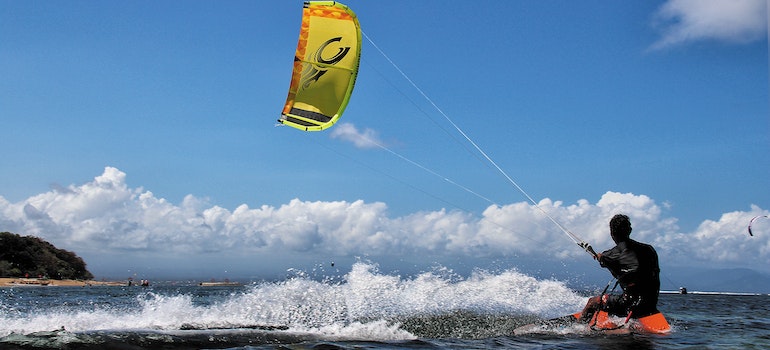 The magical and tranquil waters of Biscayne Bay will provide a serene escape for kayakers and snorkelers. If you are one of those enthusiasts, you will be amazed by the vibrant underwater world. In case you choose this glamorous water heaven, you might want to consider looking for some Miami movers. They will make sure that your belongings are transported securely and without damage to your new home.
Key West – Dive into Underwater Wonders
Beneath the glistening surface of Key West's crystalline waters lies a captivating underwater world that beckons divers and snorkelers alike. Renowned for its unparalleled appeal, Key West boasts vibrant coral reefs. They burst with kaleidoscopic hues, creating a mesmerizing backdrop for an immersive aquatic adventure. As you descend into the depths, you will encounter majestic sea turtles, playful dolphins, and plenty of exotic fish. Beyond its breathtaking marine environment, Key West's maritime heritage comes alive through water-based events like regattas and boat races, honoring the city's seafaring legacy. There are plenty of things that will keep you busy after working hours in this amazing city. Make sure to find trustworthy movers that will relocate you. Book them as soon as you find your new home to get the best service.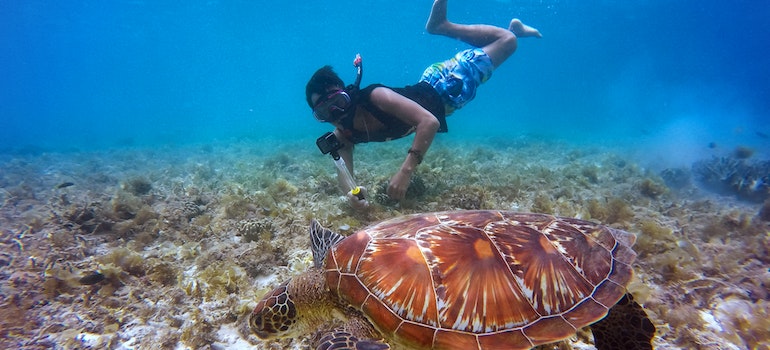 Fort Lauderdale
Fort Lauderdale proudly wears its moniker as the "Venice of America," a tribute to its intricate network of waterways that crisscross the city's landscape. Choose movers in Fort Lauderdale on time as you will have difficulties finding them later. Fort Lauderdale's extensive canal system offers a unique perspective on urban living. With an eclectic mix of modern architecture and lush landscapes, residents and visitors navigate these water passages with ease. The vibrant boating culture has deeply woven into the city's identity. You will be able to rent a yacht and experience luxury on the water, while paddle sports such as kayaking and stand-up paddleboarding offer a serene exploration of its scenic canals. The city's nickname not only reflects its watery charm but also invites all to immerse themselves in its maritime lifestyle.
Clearwater – Tranquility by the Gulf
Clearwater's Gulf of Mexico coastline exudes tranquility, offering a serene escape where calm waters gently lap against pristine shores. This idyllic setting is a haven for kayakers and paddleboarders, who can leisurely explore the peaceful expanse. As the sun sets, dolphin-watching tours present the chance to encounter these graceful creatures in their natural habitat. Beyond its natural beauty, Clearwater cultivates a family-friendly atmosphere, inviting you to bask in its gentle waves and enjoy the harmony of sun, sea, and sand. Check movers Clearwater has as soon as you find the right home for your family. That way you will be able to relocate smoother and start enjoying this fascinating city.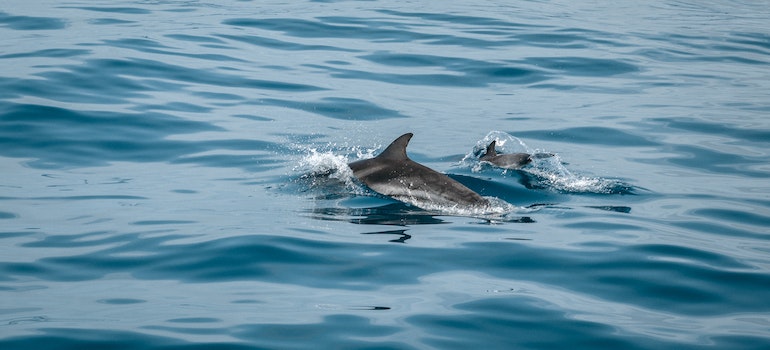 Naples Is One of the Best Cities in Florida for Water Activities
Naples exudes an upscale coastal ambiance, where sophistication meets the shimmering Gulf waters. To have a smooth relocation to this amazing city, check movers in Naples. As they know their way around and will give you the best offer for your move. The city lies in a seamless blend of luxury and leisure that offers a playground and various water activities. Among these, you will find sailing, kayaking, and paddleboarding to revel in the azure embrace. One of the best things about this city is the proximity to the Everglades. This nature-based gateway is heaven for kayakers and boaters, where they immerse themselves in the unique ecosystem.
Enjoy the Water Activities in Florida
The best cities in Florida for water activities will take your breath away. Each of them has its own charm and natural playground for all the water activities you can imagine. From checking out coral reefs, kayaking, and paddleboarding up to going to intricate canals. The choice is up to you and which city and activity suits you the most.