Discover the true essence of Miami, where beautiful beaches, lively nightlife, and a rich blend of cultures await. After relocating with the best movers in Florida, you may feel overwhelmed as a newcomer. While Miami is undeniably popular among tourists, it is also a city people are moving to more and more. With this article, you will get practical tips and insights to help you navigate the city like a true local so you can start enjoying Miami to the fullest! So, let's explore the Magic City together.
Miami's Diverse Heritage
Let's start with what makes Miami special. Throughout the year, Miami hosts a myriad of popular cultural events, festivals, and celebrations that showcase the city's diverse heritage. One such event is the Calle Ocho Festival, a vibrant street festival celebrating Hispanic culture with music, dance, and delicious cuisine. If you enjoy art there is the Art Basel Miami Beach, an internationally renowned art fair that brings together artists, collectors, and enthusiasts from around the world.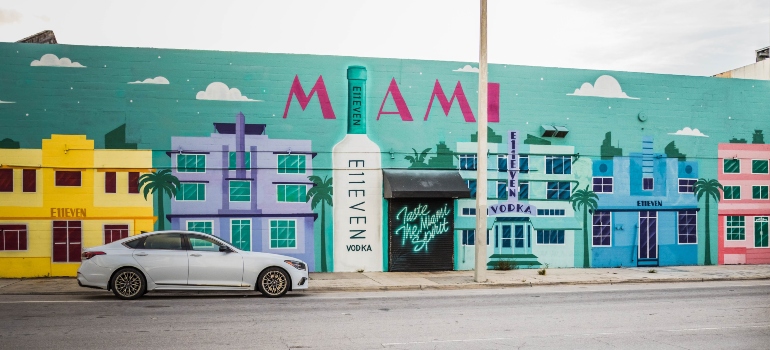 Engaging with different communities in the city allows you to experience their unique traditions firsthand. The city's Little Havana neighborhood offers a glimpse into Cuban culture. Moreover, venturing into Little Haiti exposes you to the captivating sounds of Afro-Caribbean rhythms and the colorful artwork that reflects the spirit of the Haitian community. Attending cultural events, and festivals, and engaging with various communities, will help you gain a deeper understanding of Miami's multicultural fabric and also forge connections with the people who call this city home.
Must-try dishes and local favorites in Miami
Miami's culinary landscape is as diverse and vibrant as the city itself, offering a variety of flavors and dining experiences to satisfy every palate. From iconic dishes like the mouthwatering Cuban sandwiches to the indulgent delicacy of stone crabs, the city's food scene is a gastronomic adventure. Here are some of the loved restaurants and eateries to visit after movers in Miami help you relocate:
Versailles Restaurant,
Joe's Stone Crab,
Yardbird Southern Table & Bar,
Coyo Taco.
Additionally, Miami's food scene goes beyond its Latin influences. There is a wide range of international cuisines, from savory Peruvian ceviche to savory Venezuelan arepas. Vegan and plant-based options have also gained popularity, with innovative restaurants showcasing creative and flavorful plant-powered dishes.
Diving into nature's paradise
After moving with Miami long distance movers , newcomers are greeted with numerous outdoor escapes to enjoy. The city's stunning beaches are a perfect starting point, with South Beach offering a vibrant atmosphere, while Crandon Park Beach on Key Biscayne provides a tranquil setting. For a touch of history, Bill Baggs Cape Florida State Park has both a picturesque beach and a historic lighthouse. Engaging in beach activities and water sports such as paddleboarding and snorkeling allows for an exhilarating coastal experience.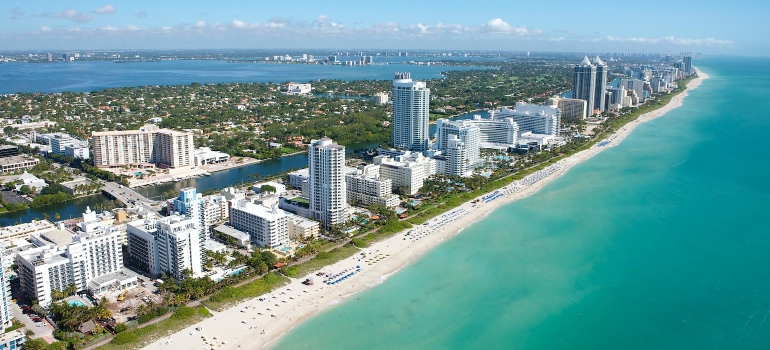 Beyond the beaches, Miami offers captivating outdoor destinations like Vizcaya Museum and Gardens, where Italian Renaissance charm awaits, and Fairchild Tropical Botanic Garden, a haven of exotic plants. Nature enthusiasts can venture to the Everglades National Park for awe-inspiring landscapes and wildlife encounters. For recreational activities, Oleta River State Park is perfect for hiking, biking, and water sports, while Crandon Park presents golf courses and a nature center.
Fitness and Wellness in the Magic City
Miami's warm climate and stunning surroundings provide the perfect backdrop for staying active and maintaining a healthy lifestyle. Whether you prefer jogging along the beach, cycling through scenic routes, or practicing yoga in serene parks, there are plenty of options to keep you moving and motivated. Explore the city's many trails and paths, such as the Venetian Causeway or the Underline, for a refreshing run or bike ride. Join outdoor yoga classes offered in parks like Bayfront Park or Peacock Park, where you can find peace and rejuvenation amidst nature.
Immersing Yourself in Art and Culture
Experience the rich tapestry of art and culture in Miami as you explore renowned museums and galleries. Pérez Art Museum Miami (PAMM) offers a waterfront location to showcase contemporary and modern art, while The Bass in Miami Beach presents diverse contemporary exhibitions.
The Institute of Contemporary Art, Miami (ICA Miami) is a leading institution featuring innovative displays and interdisciplinary programming. Look out for special events like Miami Art Week, a week-long celebration of art and culture. Additionally, visit the vibrant Wynwood neighborhood during the monthly Second Saturdays Art Walk.
Nightlife and Entertainment: Dancing the Night Away
When the sun sets, Miami comes alive with a nightlife that pulsates with energy and excitement. From world-class clubs and bars to live performances and entertainment venues, the city offers a dynamic array of options for those seeking unforgettable nights out after their relocation with residential movers in Miami. Living in Miami offers a unique blend of nature to enjoy during the day, and amazing clubs and bars to visit during the night.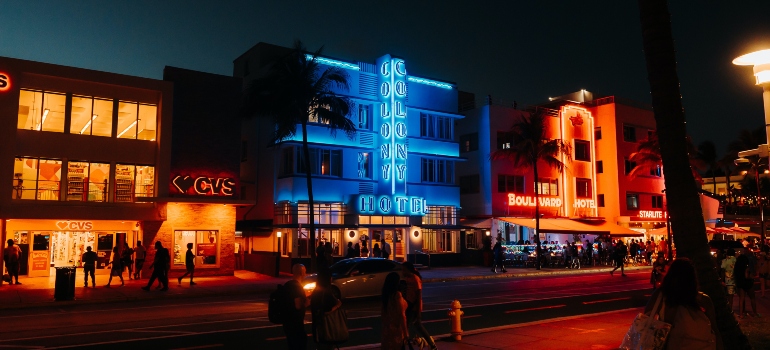 South Beach, with its iconic Ocean Drive and Collins Avenue, sets the stage for an unforgettable experience, offering stylish clubs, rooftop bars, and trendy lounges. Immerse yourself in the glamorous atmosphere, dance to the beats of renowned DJs, and savor craft cocktails. For a creative twist, venture into Wynwood, where art and nightlife collide. This thriving neighborhood boasts eclectic bars, live music venues, and art-inspired lounges, creating an electric ambiance.
Miami's performing arts scene shines at the Adrienne Arsht Center for the Performing Arts, showcasing Broadway shows, ballet, opera, and world-class concerts. The city's casinos, such as Miccosukee Resort & Gaming and Seminole Hard Rock Hotel & Casino, offer thrilling gaming experiences.
Volunteering and Making a Positive Impact
What better way for enjoying Miami to the fullest than giving back to the community by volunteering? Dedicating your time and skills can make a lasting impact on worthy causes. Several local organizations in Miami provide opportunities for dedicated individuals to give back. Camillus House assists those experiencing homelessness, Miami-Dade Animal Services cares for abandoned animals, Feeding South Florida fights hunger, and Lotus House supports homeless women and children. Once you research these volunteering opportunities you can choose the one whose cause is the closest to your heart. Aside from helping the community, volunteering is a great way to meet locals and make friends.
Uncover the Secrets of Enjoying Miami to the Fullest
Miami invites you to immerse yourself in its vibrant culture and explore its multitude of offerings. Once you become a local, uncover hidden gems, and engage with the city's multicultural scene, you will unlock a deeper understanding and connection. From breathtaking beaches to outdoor adventures and thriving nightlife, the city presents endless possibilities. Therefore, the secret to enjoying Miami to the fullest is to explore your surroundings. Don't be hesitant to try out new things and say yes to new experiences. Welcome to the Magic City!