Although Florida may not be at the top of many people's lists for food tourism, you might be surprised by the things that the Sunshine State has to offer in terms of cuisine. Florida's culinary trends are thriving more than ever. So, if you're traveling to Florida or relocating there, you might be wondering which areas are best for foodies like you. Fortunately, you don't need to look any further. Our team at Best Movers Florida is here to give you some advice on that. Some of the best foodie cities in Florida are home to top-notch pubs and eateries. Food is usually regional, so the cuisine you encounter will depend on where you travel. We will do our best to give you an insight into what you must not skip.
10 Best Foodie Cities in Florida
We firmly believe that small communities are examples of the saying "the best things truly do come in small packages." The tastiest food in Florida can be found anywhere, and you don't need to go to a big metropolis. Just take a look at one of our preferred small towns from the list below. Before they become very well-known, you should visit these 10 Florida food towns:
North Miami Beach
Naples
Jupiter
Orlando
Key West
Winter Garden
Daytona Beach
Fort Myers
Cape Coral
Sarasota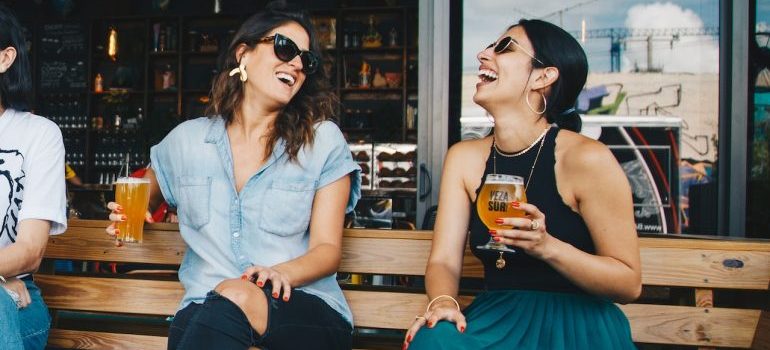 North Miami Beach
The most breathtaking beaches and restaurant views can be found in North Miami Beach. You'll be pleased to learn that there are over 300 locations where you may eat outside so you never miss a moment of the Florida sunlight. High-end restaurants lining Miami Beach's sidewalks fill the air with the aromas of American, Asian, Caribbean, Peruvian, and Cuban food, sometimes all at once. Miami Beach has its own term for what other cities refer to as "fusion": "Floribbean." Be prepared to be pleasantly surprised by its flavor and affordable costs. Ole Ole Steak House, Il Pastaiolo, and Havana Vieja South Beach are a few of the greatest restaurants with outdoor seating.  If you like this type of food, then you won't regret calling best movers in North Miami Beach to relocate you to this city!
Naples
Let's now travel to Naples' greatest restaurants along the Gulf Coast. In this coastal town, which is rightly considered among the best foodie cities in Florida, there are many different types of restaurants to choose from. Naples' unique cuisine culture has something for everyone, whether you're seeking mouthwatering fresh seafood, cozy Italian dishes, or French influences. Try the wonderful Peruvian food at Lima Restaurant or the top-notch French cuisine at Bleu Provence (don't leave without sampling one of their unique pisco sours). If you are a resident, you will be able to enjoy it every day. And, if you're not, you may want to get in touch with best movers in Naples and start preparing your move to this city right away!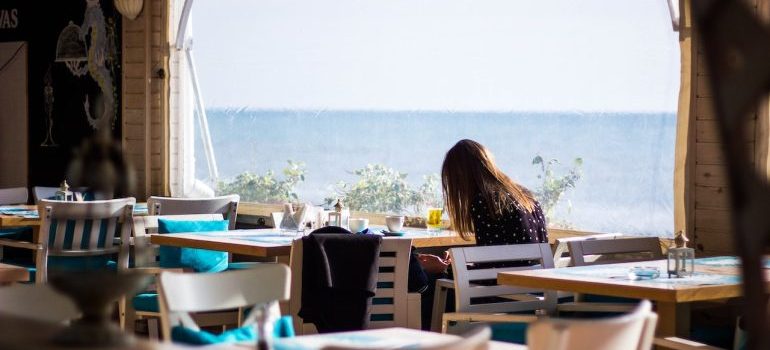 Van Van Cuban Cafe, Mediterrano, and Lamoraga are a few additional eateries that provide a variety of ethnic cuisines. When it comes to surf and turf, we suggest visiting T-Michaels in Naples. If you're seeking for great and contemporary seafood meals, check out Sea Salt. Be aware that the greatest restaurants in Naples are also the most wanted, so you should always book reservations in advance if you can.
Jupiter
You have a variety of options in Jupiter depending on the type of meal you are in the mood for, which is one of the reasons that make this place one of the best foodie cities in Florida. If you decide to move here, consider checking some of the best movers in Jupiter to ensure that your relocation goes smoothly. Fans of seafood should visit Little Moi's Food Shack. Don't let the Food Shack's relaxed atmosphere fool you; it serves some of Jupiter's best fresh catch seafood. But The Beacon is a good option if you want a more elegant atmosphere. This seaside restaurant serves exquisite steak, seafood, and other dishes while offering stunning views of the Jupiter Lighthouse.
Beacon describes itself as "a contemporary American grille" with coastal Mediterranean cuisine as a major influence. You will receive a variety of vivacious dishes with local fish as the inspiration. From the "front row" of the restaurant's chef's counter, customers may observe the cooks as they create their specialties up close. The menu offers everything from burgers and buns to salads and seafood. Among the dishes suitable for children are chicken fingers and macaroni and cheese.
Orlando
Orlando has undoubtedly established a reputation in the Florida culinary world. We were not surprised when it was ranked as the greatest gastronomic city for couples in 2021. Chic eateries that are appropriate for families, singles, couples, and really any kind of diner abound in Orlando. Since Orlando is a true melting pot of cultures, you can get almost any type of food here. The top eateries in Orlando include Michelin-starred places and foreign street food.
You can benefit from Magical Dining if you go to Orlando in the fall. Many of Orlando's best restaurants during this period offer prix fixe dinners at discounted prices. One of our favorite recommendations is Soco, where you can find inventive takes on traditional Southern fare in a welcoming yet chic atmosphere. But whatever kind of food you may be craving, Orlando is guaranteed to have it. Check out Domu for superb ramen, Capa for Spanish food, Kabooki Sushi for sushi, and Enzo's on the Lake for traditional Italian fare. Best movers in Orlando are generally very busy since this is one of the most popular cities in Florida. It's a great location, even if we take the food out of the equation. So, if you're looking for a place to relocate, Orlando should be high up your list.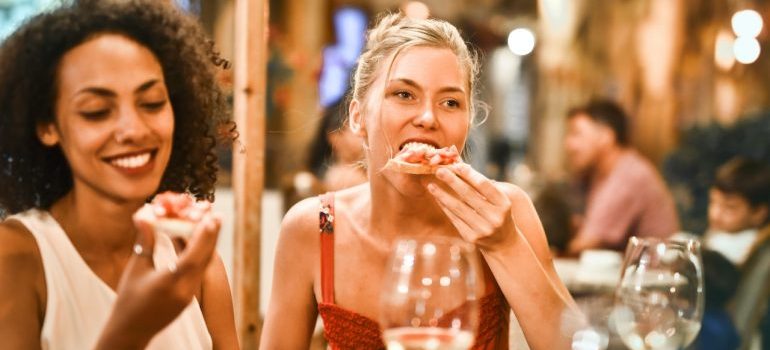 Key West
You will discover that there are many mouthwatering eateries in Key West if you travel all the way there. If you have decided to move there, you will have no regrets. Also, make sure to check out the best movers in Key West so that you can be stress-free during the move. At places like Cuban Coffee Queen and 5 Brothers Grocery and Sandwich Shop, you can definitely feel how close the island is to Cuba. If you're in the mood for something a little fancier, Little Pearl has excellent regional seafood and a great wine list. Last but not least, beer enthusiasts should visit First Flight Island Restaurant and Brewery (take advantage of their daily happy hour from 4 p.m. to 6 p.m.).
Go to the outdoor Hogfish Bar and Grill on Stock Island, which is 10 minutes from downtown Key West, for straightforward, simply prepared seafood. The fried hogfish sandwich, served on Cuban bread with Swiss cheese, onions, and mushrooms, is the house specialty, but they'll also fry, blacken, or grill whatever you catch that day. Reserve a table in the exquisite Cafe Marquesa for something a little more upscale, and order the Asian-inspired grilled spiny lobster tail with blue spot prawns in Thai butter sauce.
Winter Garden
Winter Garden is a must-see. You will be satisfied as you explore this town's top dining establishments, no matter what type of cuisine you yearn for. No matter what you're craving—seafood, barbecue, steaks, real Italian, true Mexican, or Chinese cuisine—you can find it nearby. No reservations are needed at any of our restaurants serving gourmet cuisine. Simply show up and get ready to be blown away by the exquisite cuisine our tiny city has to offer. Try the citrus-glazed fish, which uses real Florida oranges in the sauce. Your taste buds will be pleasantly delighted. Winter Garden has maintained its small-town character despite being close to Orlando's bustle. If you are planning a relocation there, best movers in Winter Garden will be of great help.
Visit the Plant Street Market, a sizable indoor artisan marketplace with wonderful eateries along with fresh, organic cuisine and handmade crafts. Some of the most famous food places are Market to Table, Winter Garden Pizza Company, Chef's Table, Cariera's Fresh Italian, and Urban on Plant Kitchen & Bar…
Daytona Beach
There is more to Daytona Beach than just sand, surf, and sunshine. You will absolutely love it living there. Moving can also be easy with a help of the best Daytona Beach movers, so that your whole experience of starting a new life chapter in Daytona Beach is as seamless as possible. This city ensures a fantastic gastronomic experience thanks to its vibrant and diversified food scene. With a "Foodie City Index Score" of 64.50, Daytona Beach comes in at number 38 on the list. Daytona Beach has a wide variety of excellent eateries and international cuisine, even if seafood is the town's specialty.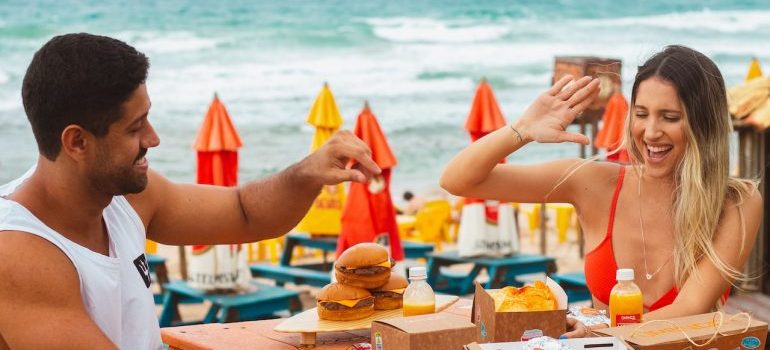 Local black-owned Kale Cafe Juice Bar & Vegan Cuisine is a destination for everything wholesome and tasty. Their menu is always changing to suit the tastes of their guests, and they only use organic and local ingredients. Also, one of the oldest restaurants is The Starlite. This retro-themed restaurant pays homage to the golden age of diners and offers a huge menu to satisfy all tastes. It serves a variety of excellently prepared diner favorites, such as strawberry waffles and cheesesteaks. In addition, their rates are reasonable and their customer service is exceptional.
Fort Myers
The number of excellent eateries in the neighborhood is proof that the foodie trend is still strong in Fort Myers. While there are many tried-and-true, enduring favorites in this area, new and interesting places are always opening doors to tease your taste senses. Hopefully, you will not gain a lot of weight if you even decide to live here. Make sure to hire professionals for your relocation so that you do not need to do anything on your own. Best movers Fort Myers will definitely be at your disposal.
It's worth the long trip around Sanibel Island to the Mad Hatter for a little romance and a beautiful sunset. This quaint beachfront restaurant offers a fantastic meal together with first-rate service and a breathtaking outlook. The reputable Veranda in downtown Fort Myers is known for its warmth and Southern hospitality. This is a frequented location where we can linger over a cocktail on special occasions. The first one on the list, however, is definitely Harold's. This restaurant is one of the best for dinner in Fort Myers for fans of traditional American cuisine because it offers numerous creative takes on classic dishes like king salmon with a mustard crust or scallops served with cauliflower risotto.
Cape coral
Cape Coral has long been a favorite destination for visitors and locals due to its gorgeous Gulf views and warm year-round sunshine. And while these activities are still available, Cape Coral is also becoming known as a culinary hotspot and becoming more popular for relocation. The ones usually dealing with the process are the best movers in Cape Coral. With so many cutting-edge chefs now residing in this Gulf coast paradise, Cape Coral's selection of superb restaurants keeps expanding, making it worthwhile to visit more frequently.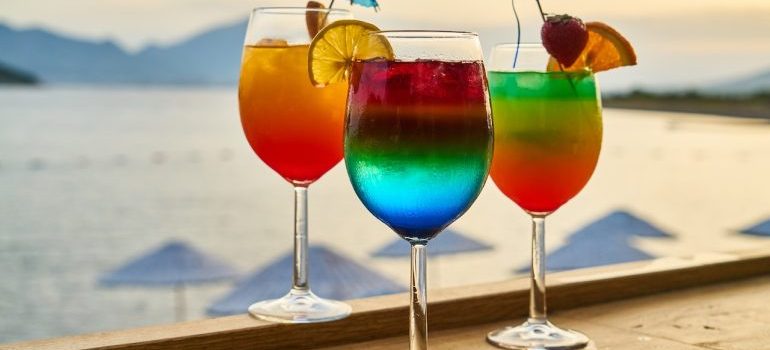 There is a lot to do if visiting this tropical playground. However, reserve a good portion of your day for happy hours that transition into dinner with fresh island cuisine and flavorful cocktails. Fish Tail Grill is the place to go if you want delicious seafood. If you prefer Cajun food, Slate's won't let you down. Alternatively, if all you want is a sweet breakfast nook, check out Café YOU. And that's only the start.
Sarasota
There are many possibilities for dining out in Sarasota, whether you're a local or simply visiting for a short while. Dining is only one of the many aspects of the fantastic lifestyle that Sarasota has to offer, both to residents and guests. When it comes to fine dining restaurants, authentic Italian diners, atmospheric local haunts for fantastic fish tacos, and almost every other type of cuisine in between, Sarasota does not disappoint. In fact, a few years ago, it was included in Condé Nast's list of "The Best Food Cities in the U.S." If you move here, we guarantee that you will never be hungry. Moreover, you will not even be tired from the relocation if you decide to let the best Sarasota movers help you.
Some of the most famous places when it comes to having breakfast are First Watch, Fresh start cafe, and Toasted Mango cafe… If you are up to lunch, you should definitely visit Bitia's Taqueria, Lila, Made, and Pho Cali… For a date night, do not skip Mélange, Indigenous, Ophelia's on the Bay, or Sage. For a family meal, the best would be to go to Eleni's Pizza Works, Michael's on East, and Old Salty Dog.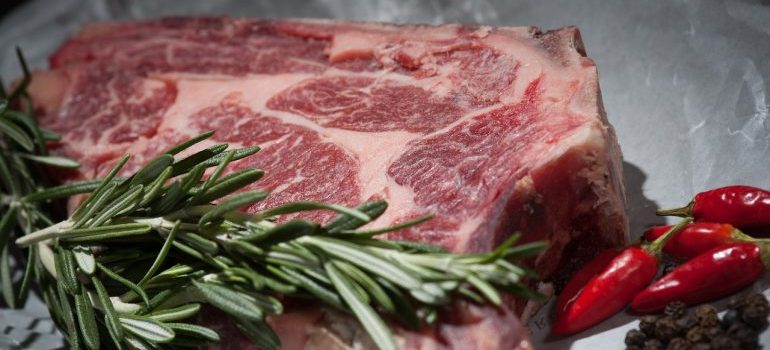 With so many great foodie cities all over Florida, you can't go wrong!
Visitors to the Sunshine State might not anticipate Florida's cuisine to differ significantly from that of the rest of the country, but just like anywhere else in the globe, local cuisine reveals a location's history, climate, inhabitants, and traditions.  Florida's cuisine is incredibly diversified, featuring everything from citrus to seafood to many southern favorites, all of which are naturally flavored with the distinctive tastes of Latin and Spanish culture. It doesn't matter if you're in a huge city like Miami, a little town like Apalachicola, or an island like Key West, as you can see. You're most likely only a short distance away from some of the best foodie cities in Florida, no matter where in the state you are.