Discover the allure of Miami's real estate market as Best Movers Florida delves into the city's most promising neighborhoods for investment. From the iconic South Beach, radiating with art deco charm and bustling with tourists, to the up-and-coming districts teeming with potential, Miami offers diverse options for savvy investors. Beyond its reputation as a tropical paradise, Miami's robust economy, favorable tax environment, and cultural diversity attract both residents and businesses, ensuring a steady demand for real estate. Whether you're a seasoned investor seeking growth or a newcomer looking for solid prospects, Miami neighborhoods for real estate investment beckon with promises of financial success amidst the backdrop of sun-soaked beaches and endless possibilities.
Analyzing Miami Neighborhoods for Real Estate Investment
Miami's real estate market has emerged as a hotbed for investment opportunities, garnering attention from both domestic and international investors. The city's thriving economy, diverse cultural scene, and attractive climate have driven a surge in demand for residential and commercial properties. With a steady population growth rate of 0.8% annually as of 2023, and a robust job market buoyed by sectors like tourism, finance, real estate, and ongoing infrastructure development, the demand for both residential and commercial properties in Miami is high.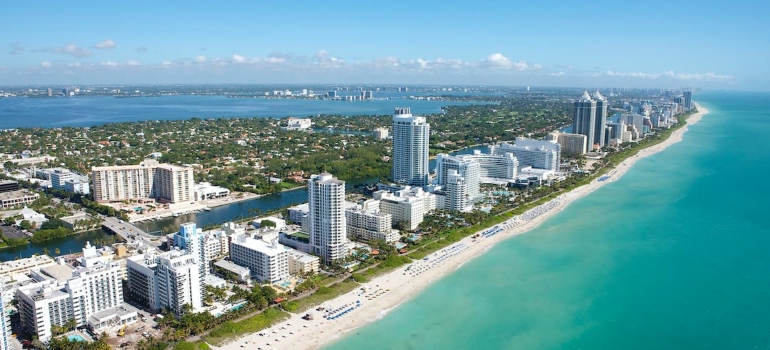 The city has shown resilience in its real estate values, with a 7.4% year-over-year increase in median property prices. Rental yield remains competitive, and vacancy rates are low in many neighborhoods, indicating a healthy supply-demand balance. While it's crucial to take into account that property taxes and insurance costs are relatively high in Florida, the state's lack of personal income tax can offset some of these expenses. Overall, Miami's combination of demographic trends, strong economic fundamentals, and real estate market resilience make it a compelling option for real estate investors.
Doral – The Booming Suburban Gem
Doral, a booming suburban gem, has emerged as a dynamic hotspot in Miami's real estate scene. Its strategic location near major highways and the Miami International Airport has fueled its rapid growth. Average property prices in Doral remain attractive compared to more urban areas, presenting lucrative investment opportunities. The rental demand in this flourishing suburb is also on the rise. This demand is mainly driven by its family-friendly environment and access to excellent schools. It's also the reason why many families tend to hire Miami residential movers and move here. Residents enjoy a plethora of recreational facilities, parks, and golf courses, while the proximity to major attractions, shopping centers, and entertainment hubs adds to Doral's allure as a vibrant and convenient place to call home.
In June 2023, Doral home prices rose by 5.0% YoY, reaching a median price of $583K. Homes sold in around 71 days, up from 43 days last year. On average, homes sold for 3% below list price, with a pending time of about 63 days. Highly sought-after homes, however, sold at or near the list price and went pending in approximately 28 days. The market was not very competitive, with few instances of multiple offers.
Brickell & South Beach: The Financial Hub and Iconic Beachfront Investment
Brickell heralded as Miami's financial hub, has solidified its reputation as a premier destination for real estate investment. The district's prime location, surrounded by banks, corporate headquarters, and financial institutions, attracts professionals and investors alike. The rental demand in Brickell remains strong, driven by the influx of professionals seeking upscale urban living.
In June 2023, Brickell and South Beach saw a notable increase in home prices, with a year-over-year rise of 8.6 and 9.1% respectively. The median selling price for properties in this area reached $799,000 in Brickell, while in South Beach was  $575,000. Homes tended to stay on the market for about 68 days, compared to 50 days the previous year. On average, homes sold for approximately 4% below their list price. Hot properties in this sought-after location could sell for close to the list price, and they went pending in just about 32 days. The housing market remained relatively competitive, with multiple offers being relatively common.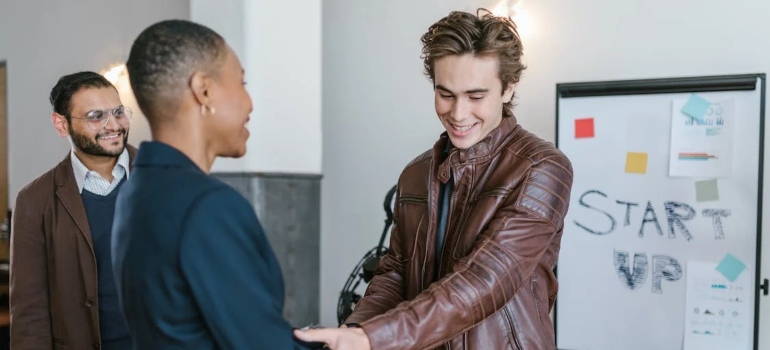 South Beach, an iconic beachfront gem, continues to captivate as a world-renowned destination for both tourists and real estate investors. The allure of its pristine sandy shores, vibrant nightlife, and art deco architecture draws visitors from across the globe. As a result, average property prices in South Beach command a premium, offering the potential for long-term appreciation. The tourism-driven demand also presents excellent opportunities for short-term rentals with an average price of $450 per night, enabling investors to capitalize on seasonal peaks. With the potential for high rental income and a thriving vacation rental market, South Beach stands as a lucrative investment choice for those seeking to combine the charm of a beachfront escape with robust financial gains.
Wynwood – The Artistic and Cultural Hotspot
Wynwood, once an industrial neighborhood, has undergone a remarkable transformation, blossoming into an artistic and cultural hotspot in Miami. The area's captivating street art murals, trendy galleries, and eclectic vibe have attracted artists, creatives, and entrepreneurs, giving rise to a thriving cultural community. As a result, average property prices in Wynwood have seen substantial growth, making it an attractive investment prospect. Another result would be the increased amount of people hiring long distance movers Miami and moving here. The neighborhood's unique character has also spurred interest in mixed-use developments. Investors and developers are keen to create spaces that seamlessly blend art, culture, and commerce.
Wynwood housing market experienced a substantial 7.2% year-over-year increase in home prices, with the median selling price reaching $590,000. Homes typically sold within 65 days, compared to 55 days the previous year. On average, homes are sold for about 5% below list price, going pending in approximately 55 days. In-demand properties in Wynwood could sell at or very close to the list price and went pending in around 30 days. The market showed moderate competitiveness, with some instances of multiple offers on properties.
Coconut Grove & Coral Gables: Historic Charm and Upscale Residential Haven
Coconut Grove, exuding a timeless historic charm, enchants residents and visitors alike with its lush landscapes, quaint streets, and bohemian atmosphere. This well-established neighborhood in city of Miami boasts a rich history and a sense of community that attracts discerning investors. Average property prices in Coconut Grove reflect its desirable allure, offering the potential for long-term appreciation. Moreover, its popularity among renters seeking a laid-back yet vibrant setting presents excellent opportunities for long-term rental investments, making Coconut Grove a coveted destination for both homeowners and astute property investors.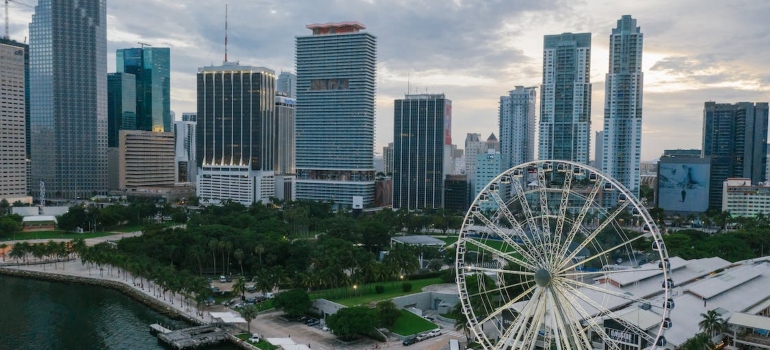 Coral Gables, an upscale residential haven, exudes elegance and sophistication, making it a sought-after address for affluent homebuyers. The neighborhood's meticulously planned streets with historic architecture and lush greenery add to its timeless allure. While this neighborhood has less than 50,000 residents, each year many more are moving in with the help of movers in Miami. This makes it an attractive choice for long-term investments.
In June 2023, the Coconut Grove & Coral Gables area experienced a steady rise in home prices, showing a 4.8% year-over-year increase, with a median selling price of $850,000. Homes tended to stay on the market for about 75 days, compared to 60 days the previous year. On average, homes sold for approximately 3.5% below the list price. The housing market was somewhat competitive, but multiple offers were still relatively uncommon.
Miami Neighborhoods for Real Estate Investment: Making Informed Investment Decisions
Miami's kaleidoscopic real estate market overflows with opportunities for those who dare to dive in. The city's dynamic culture, strong economy, and prime location enhance its allure. We've journeyed through diverse Miami neighborhoods for real estate investment like Brickell, Coconut Grove, Doral, Wynwood, and Coral Gables. Each exudes a unique charm, beckoning potential investors. From luxury estates to commercial real estate and affordable housing, Miami has it all. Doing your homework and knowing your investment goals is crucial. Market shifts aside, Miami's neighborhoods remain a hotspot for investment. As the city grows, so do these investments. With the right insight, the returns can be immense. Miami waits for those ready to embrace its real estate promise.