Moving is a stressful process for everyone. However, it can be an even greater challenge if your kids will be there as well. In an ideal situation, you will be able to have a babysitter, friend, or a family member to watch over them. Although this would be the best possible option, it simply isn't always a possible choice. For this reason, hiring Pompano Beach movers will help you loads during the relocation process. Their professional staff will help you with the heavy lifting so you can focus on your kids a little bit more. Yet, if you aren't sure how to keep kids occupied while moving, do not fret. Below are some useful activities for them to do while you deal with the business of packing and organizing. To help you prepare for the big relocation, keep reading for some tried and tested moving day activities.  
Top tips to keep kids occupied while moving
Make an activity kit specifically for moving day
One of the fun activities which will help keep kids occupied while moving is a special activity kit. Namely, get a variety of fun things which will occupy your young one's attention and entertain them. Keep in mind this does not have to be anything too over the top. Only a few meaningful and lightweight pieces will do the trick.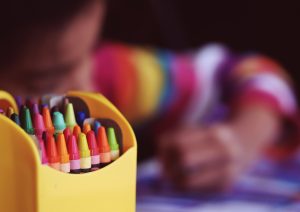 These can include markers, crayons, a coloring book, a grade-appropriate activity book, a sticker book, playdough, and similar items. Also, you can make this even more special by giving them their bundle of activities as a surprise. In doing this, everything will be new and exciting for them so they will have fun for hours. 
Make sure you give them their special belongings
Along with the activity kit, you should make sure to have a couple of their favorite toys on hand and ready. This is one of the best ways to keep your kids comfortable and calm during the busy moving process. However, keep in mind that these items shouldn't be too bulky or heavy. Otherwise, they will cause clutter and more work for you.  
A deck of cards can go a long way when it comes to fun
A deck of cards is a classic and lightweight option. Namely, they are an amazing way to help pass the time. What makes them even better is that they are so versatile that they will definitely keep kids occupied while moving. Also, not having to worry about them as they play will help you maintain your sanity while moving. If you're not sure what games they can play, here are a few options: 
Reading books can be fun
Passing time by reading books is an amazing moving day option for kids of all ages. During the process of packing, ask your kids to leave out a couple of their most favorite for moving day. You can pack the rest up in moving boxes Florida, while they hold on to their chosen ones. Keep in mind that this can be an activity even for kids who are too young to read, like toddlers. In this case, you can pick a few picture books to keep kids occupied while moving.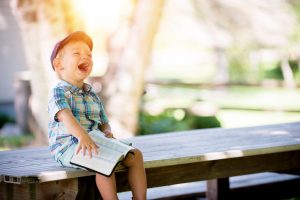 When moving day finally comes, you should choose a safe space for your kids. This is important so that they can stay there while you help your movers load and unload all your stuff. Make sure this spot isn't a busy area through which a lot of people have to pass through regularly.  
Make use of what you have
While moving, you are likely to have extra moving boxes and similar packing supplies which can spark your children's creativity. Because of this, you should save what you have along with some markers and crayons. In this way, you will give your kids a fun new activity which they will love. As an alternative option, your kids can also use the boxes as little houses, cars, or similar thing while playing inside them. There is nothing better than the imagination of a child! 
Throw a mini dance party to keep kids occupied while moving
If you are lucky enough to have some lawn space, you may as well put it to use. Namely, this is the perfect spot to keep kids occupied while moving. One of the best options is to get them moving by playing their favorite tunes from your phone.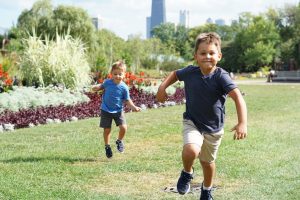 Another thing which can make it even more fun is to make it a friendly contest. Specifically, a freeze-dance or a free-play contest can help them get rid of all the extra energy. The only thing you should make sure to do here is to keep them out of the movers' way. In doing this, you will ensure both fun and safety for everyone.  
Download some fun games and movies
Sometimes there is nothing harder than keep kids occupied while moving. If you are certain your moving day will be a long one, movies and virtual games are your best bet. Downloading a few movies and appropriate games will entertain your kids for hours. In this way, you will be free to calmly focus on each task without having to worry about your young ones. While you're working, they can watch a new movie they wanted to see for a long time. Also, the games you download for them will entertain them for a long time. This is one of the safest options you can choose to avoid them getting bored.  
Ultimately, if nothing else works, take your kids out of the house and on a walk through your old neighborhood. This will refresh them up and you will be able to go back to packing and moving sooner rather than later.