Many people are drawn to the beaches of Miami, but this city has much more to offer. Anyone thinking of relocating to this far southeast corner of Florida can expect the sea, sand, sun, national parks, sports, great neighborhoods to live in, and a strong job market. And while Miami is a more affordable city than New York, San Francisco, Los Angeles, or Boston, it's not exactly cheap. In fact, it ranks last on the list of the 10 most expensive cities in the United States. Nevertheless, if you are thinking of moving from Fort Lauderdale to Miami, you need to make an informed decision. Best Movers Florida is here to tell you all about the cost of living, job opportunities, and many more.
Get to know Miami and its beautiful geography
The metropolitan area of Miami and its suburbs lies between the Everglades to the west and Biscayne Bay to the east, which stretches from Lake Okeechobee southward to Florida Bay. Bordering the sea, it has more than 2,000 kilometers of coastline so beach lovers can enjoy it most of the year since temperatures there oscillate between 30 °C and 35 °C between the months of May and October. This is also the best time to relocate with residential movers Florida. You will not need to buy clothes as Fort Lauderdale is just 28,8 miles away, so the climate is pretty much the same.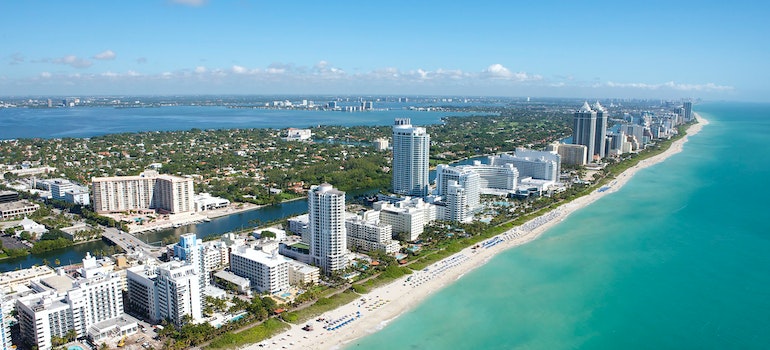 Moving from Fort Lauderdale to Miami and how it will affect the cost of living
If you decide to relocate to Miami, you should start by searching for your apartment. Most of the contracts that are signed are for 12 months, but it is also possible to find people who rent the apartment with a 6-month contract, or even from month to month, although this is already more difficult.
Depending on the area and the state of the home, prices may vary, but in general, renting an apartment in Miami will cost you $2,600. To buy a house, you will need to save about $528,788. When you compare this to Ford Lauderdale, rent is the same, but purchasing a home is cheaper at $501,414.  The utilities will cost the same (around $172 per month)
Should you move to Miami for a new job?
If you are looking to relocate from Fort Lauderdale to Miami, you should know that there is not much of a difference in the average salary ($53,700 in Miami and $51,700 in Fort Lauderdale). The main difference is that Miami is much bigger and more diverse and it's easier to find a job. Miami offers us employment opportunities in a wide variety of fields and you won't find it hard to get hired after relocating with some of the best movers in Fort Lauderdale. What is most in demand today are jobs in the following sectors:
Tourism
Finance
Technology
Education
Health
As you already know, Florida is a state that we could say lives off tourism. Therefore, it is very easy for young people to get jobs in hotels, restaurants, or stores. Knowing Spanish is a fundamental requirement to be able to apply for this kind of job. If you wonder why 70% of its population is Spanish-speaking. Florida is one of the US states in which its inhabitants use Spanish the most, and practically 100% of its people know how to start a conversation in this language.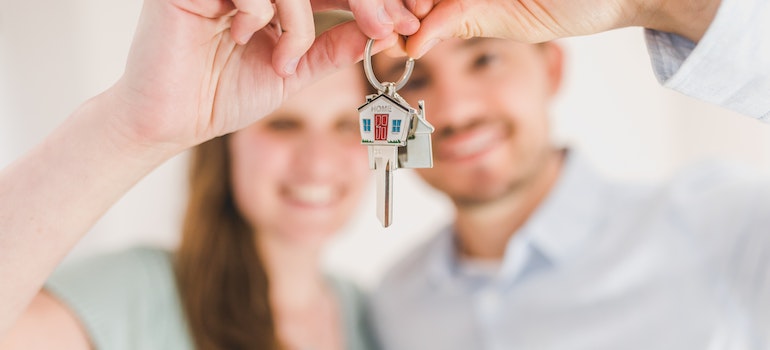 Best Miami neighborhoods
If you're thinking about moving to Miami, Florida, and want to know where to live, consider some of the city's best districts, charming communities, and quaint cultural pockets. You'll also find peaceful, affluent suburbs that offer a wide range of homes at different price points. Let us show you our top 3 picks before you employ the best Miami movers, and relocate here from Fort Lauderdale.
Little Havana- a Latin paradise with much to offer
West of Downtown, lies a big neighborhood – Little Havana. The neighborhood has 80,000 residents, who like its dense urban feel, rich history, vibrant Latin-American culture, and incredible Cuban cuisine. Little Havana is a welcoming neighborhood with a slower pace than the nearby downtown area. Its average monthly rent for a one-bedroom apartment in East Little Havana is about $2,100.
Coral Gables-  perfect spot after moving from Fort Lauderdale to Miami with your family
Coral Gables, with its Spanish architecture and plentiful parks, and many amenities that your children will love such as Venetian Pool. There is also a Youth Center and plenty of schools such as Coral Gables Preparatory Academy and Coral Gables High School. However, it is one of the pricier neighborhoods in Miami. The average rent here ranges from $2,690 for a small apartment to $4,850 for a large luxury apartment.
Surfside- Miami subeurb for retierees
If you are a retiree, this beautiful suburb offers so much. From affordable rent to senior programs to beaches. It has a year-round wonderful climate, and you can eat food from all over the world. As a senior citizen, you can spend your day cycling, visiting Harding Avenue's commercial center or The Surfside Community Center. Every third Thursday of the month, locals and visitors gather in the 95th Street block between Harding Avenue and Collins Avenue. They do this for an evening of family-friendly fun. This awesome block party has been going strong for over 10 years. It offers visitors a chance to meet their neighbors, and get to know their community better. And, of course, it gives them a chance to just have a great time with friends.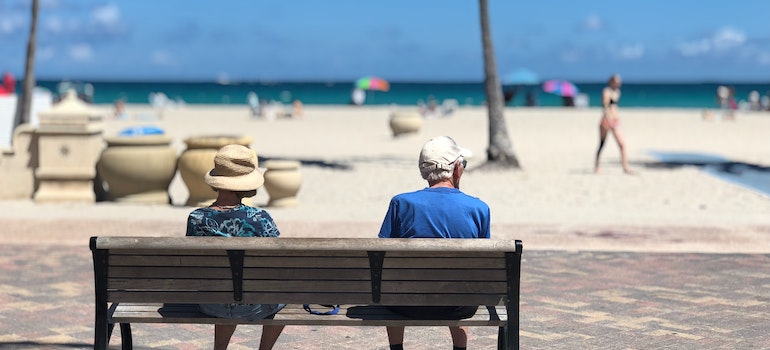 Should you relocate from Fort Lauderdale to Miami?
Ford Lauderdale is a great city. It has much to offer, however, a lot of people are relocating to Miami each year- and for a good reason. It is a diverse city, with an urbane and dense feel, fit for young people, but families and retirees as well. If you have decided on moving from Fort Lauderdale to Miami, we think that it's a step in the right direction. We are certain that you will love spending your days on the beach and enjoying the palm trees and great cuisine.