Have you ever found yourself being buried under your household belongings? Things have been piling up for ages but you can't find the time to deal with them. You may be at a loss for how to get your house moved in, organized, and good as new. And this can often happen when you move to a new house. After you have moved with one of the Best Movers Florida and unpacked, you will probably have so many boxes that they are difficult to reach the curb. While you are seeking to get rid of these leftover moving boxes, there are other methods to recycle or reuse them. Let's go, we will give you some great tips!
Should you keep the leftover moving boxes?
Moving is a stressful time, and one of the things that can make it worse is having to deal with all the boxes you have to throw out. But what if there is no need to throw them out? Maybe you can use them and keep them for many different purposes. There are many things you can use them for, and one of them is to use them as storage containers. When you're moving into a new place, you're going to need somewhere to store all your stuff while you're unpacking. You can use old moving boxes as storage bins in your basement or garage. They're large enough to hold plenty of items but also easy to stack and store away when not in use. They're also easy to label for easier organizational purposes.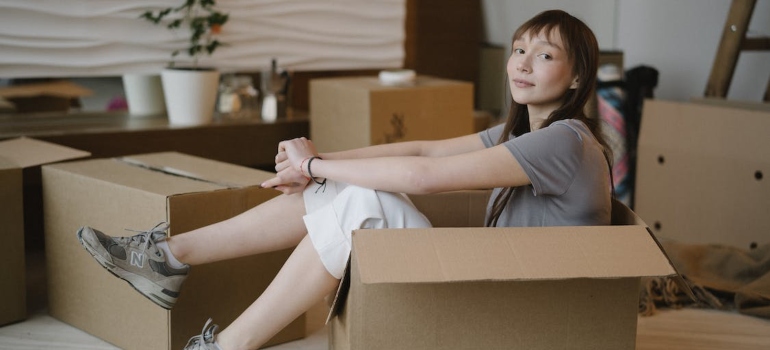 What is more, you can use them for arts and crafts projects. Crafting is fun, but it can take up a lot of space. Especially if you have kids who like making things like paper chains or origami animals. Old moving boxes are perfect for storing craft supplies. Because they keep everything contained and organized so nothing gets lost or damaged in transit. Just be sure not to put anything too heavy on top of them if they're stored in an attic or garage. Those things aren't designed for permanent storage! And in case you still do not want to have this on your mind, moving companies Bradenton will help you out with all packing supplies. Just reach out to them!
Local recycling programs
Recycling your cardboard boxes is easy and it's an environmentally friendly way to keep them out of the landfill. The first thing you'll need to do is find a local recycling program. If there isn't one where you live, or if they don't accept cardboard boxes, check with your local recycling center to see if they can help. If not, check out some of these other options. In most cities and towns, people can recycle large quantities of cardboard, so you don't have to pay for moving boxes Florida. Some will not pick up from the curb, so you may have to deliver your boxes to the recycling center.
Sell leftover moving boxes
If you are moving into a new home, it is likely that you will have some boxes left over. These boxes can be sold to people who are moving out or need to move their belongings. The best way to sell these boxes is through Craigslist or eBay.
Craigslist is a great place to sell your boxes because it allows users to post items for sale in their local area. You can list the type of box they are selling, how many they have, and their price. If someone is interested in buying your box, they will contact you directly through Craigslist.
eBay is another good option for selling your moving boxes because it has a large network of buyers worldwide. To sell on eBay, click on "Sell" at the top of the page and then click on "Items For Sale." At this point, you can search for items similar to yours and see what others have sold theirs for.
Depending on where you live, in many cities, there are companies that specialize in buying and selling used boxes. You can search for them online or check with local shipping companies. If you live in Miami, for example, contact Miami moving companies and ask for their help with selling boxes. These companies can make a lot of sales for you. You can find buyers who will accept discounts and come to pick them up from you at the appointed time. Transferring your boxes does not require an advance payment, but they charge a commission on sales.
Use them as props or decorate them
If you still want to keep your moving boxes, and would rather not sell them, moving companies in Palm Beach have a few recommendations on how you can handle them. First of all, you can decorate them! You don't have to throw out those old cardboard moving boxes once you've moved into your new place. Instead, turn them into something beautiful by painting them or decorating them with colorful duct tape! There are tons of great ideas out there for how you can use your cardboard moving boxes, and the best part is that they're easy on the wallet!
What is more, you can use them as props in photo shoots or movies/TV shows. People often use empty cardboard boxes as props when filming movies or TV shows because they're convenient and inexpensive! If you're in the entertainment industry and have some free time on your hands, consider using some leftovers for your next shoot! Additionally, you can offer them to people who are in that kind of business and need cardboard boxes.
Save them for your children
If you have children or pets, you can always find a use for several moving boxes. They can become game houses, costumes, pet beds, and sleds. For example, you can make an obstacle course with leftover moving boxes. Set up an obstacle course in the living room or backyard with several boxes in various sizes. Kids will love running and jumping over them as they help you unpack. Additionally, you can make a fort. Set up several boxes and blankets on the floor to create a fort. Then sit inside with your kids, drink hot chocolate, and watch movies. Lastly, use boxes to make a puzzle. Set up several boxes with their lids off and let your kids color on them with markers or crayons. Then put them together to make a puzzle for them to play with once it dries.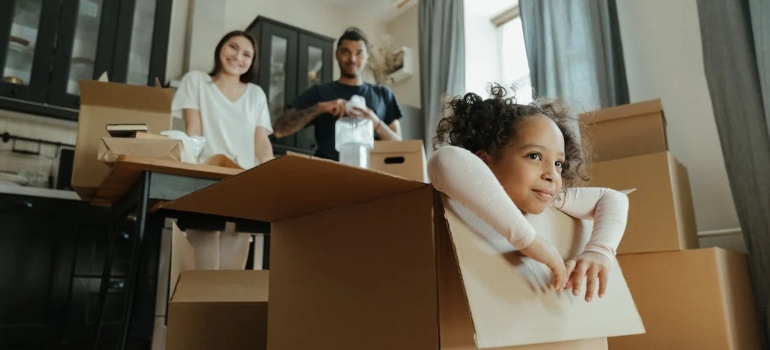 Place on the bulletin board
U-Haul has a Customer Connect board for people on the go. You can search for people requesting used moving boxes or post your message. This is a site where people can buy, sell, or trade packing materials, including boxes. Freecycle.org is another site where you can list items that you want other people to come and take from your hands.
If you are not already a member of NextDoor, this is a great place to put things that you are trying to sell or hand out, such as moving boxes and packing materials. Since you've just moved to a new neighborhood, NextDoor is also a great place to meet new neighbors and find services you may need for your new home. Register, introduce yourself, and participate. It is so simple.
Reach out to your neighbors and friends
After you unpack, leftover moving boxes will be excellent organizers for long-term storage in Florida. But if leftover moving boxes do not have not much use to you anymore, they can be beneficial to others. Ask your neighbors, friends, or family if they need used boxes. If they're planning to move in the near future or have a birthday party coming up, they'll likely be happy to accept your offer. Just make sure that they know what kind of boxes you have available. And ask them if they need any specific sizes so that you can bring enough for everyone's needs.
Also, if you moved to or near a residential complex, ask the managers or the rental office if they can notify tenants that your boxes need a new home. Or they can tell you if someone in the building is moving. You can also post flyers around your area so people know that you have some extra boxes. If you moved to Sarasota, FL ask Sarasota moving companies for help. They might know what to do with all those leftover boxes.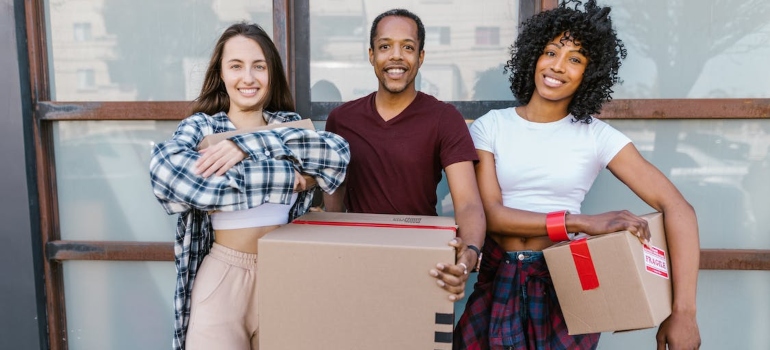 Contact a charity or a community organization
Local libraries, schools, community centers, food banks, churches, or other non-profit organizations may need boxes for their own purposes or for use in their work. For example, making food baskets or similar. This option may take some time and several phone calls, but there are always organizations that need boxes.
Animal shelters
Many animal shelters use cardboard boxes, especially those that can contain cans for cats. These cartons are often used and recycled as disposable cat litter trays. Clever, huh? Check at your local animal shelter to see if they take the boxes, and if they do, what they take. You can check with organizations like The Animal League if they pick up any boxes they can use later on.
Contact your local library or charity
You may be surprised to learn that some charities or libraries need good-quality cardboard boxes for use. Contact your local library or call to find out if they need any boxes, or ask someone else who might need some boxes. It is important to consider that wet cardboard boxes are not recyclable. Check with your institution about what they are taking. Also, you can contact The Salvation Army. They accept donations of cardboard and other packing materials from businesses and individuals. The organization uses the materials in its thrift stores and to support its disaster relief efforts worldwide.
Use them as gift boxes
Christmas is coming soon, and you will need to pack your presents. So, if you have moved to Largo, and you have leftover boxes, you can use them for gifts. Use them as gift boxes when giving presents at Christmas or on birthdays. A lot of people don't have gift-wrapping supplies on hand at home, so they just use whatever's available. That is usually an old box from a previous purchase that's been sitting around unused for months (or years). But if you have some free boxes lying around, why not give someone an extra-nice present by using one of those instead?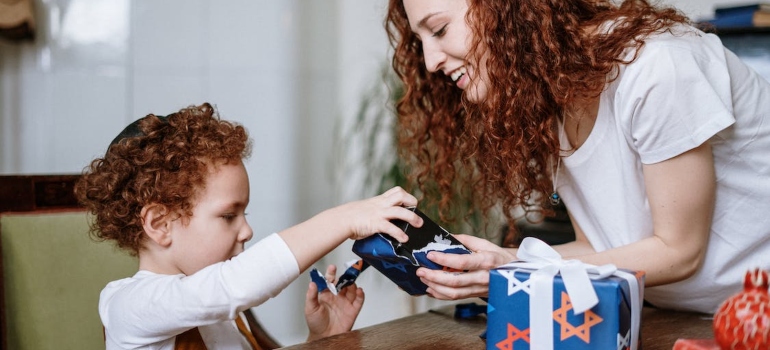 Save the boxes for the next move
If you are planning on moving again soon, save your boxes and reuse them for your next move. You can also recycle them by giving them to someone else who is moving. Go through your boxes and select the cleanest and strongest. Flatten them and set them aside to use for storage or your next move. Even if you do not use them, most likely you have friends or relatives who will need them soon enough. In case you need a good moving company in Florida, Pompano Beach moving companies will be there for you. They have many years of experience in the moving industry and they are ready to take on any size project.
Lastly, some people use cardboard boxes as trash bins for composting. Community garden programs also often need cardboard for use in their projects. Your boxes can have new life in the form of vegetables and flowers.
Never throw leftover moving boxes away
Yes, we know that leftover moving boxes are not your top priorities when moving, and that the easiest way to get rid of them is to simply throw them away. But, before you do that, think about all the other things you could do with them. You may not need them anymore, but there are plenty of other people who will appreciate getting them.