The holiday season is truly something special. We all love decorating the house with colorful ornaments and lights. Also, we get to buy presents for our loved ones and spend time with family. But sadly it has to end, and then the trouble starts. Christmas decor is quite fragile and therefore easily breakable. If you want to avoid any breakage continue reading and find out what are the best tips for packing and moving Christmas decor. We are all well aware of how demanding moving can be. It's a process filled with mixed emotions. You are probably excited about the new chapter of your life, but it also frightens you. And moving during the holidays takes it up a notch. That's why you should hire the best movers in Florida, that will make the move as stress-free as possible.
Get the right packing supplies
If you want your Christmas decor to last for many upcoming holiday seasons, you really don't want to cheap out on packing supplies. Decorations that are properly packed are less likely to be damaged during the move. But, you must think beyond boxes. You can't just stuff fragile ornaments directly in the box. Avoid using newspaper, especially with some of your favorite ornaments. The print from the newspaper can easily transfer, and it's not simple to take off. There are a lot of different packing materials. Here are what packing supplies you'll need so that you can safely move your Christman decor.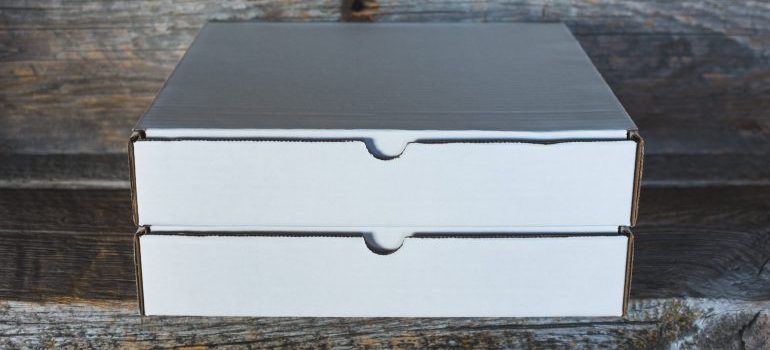 Boxes – The best way to store decor is in its original packaging, but in case you threw them away you can use cardboard or plastic boxes. Just make sure they are clean and dry.
Bubble wrap or packing paper – Use bubble wrap or packing paper to ensure nothing breaks during the move.
Packing peanuts or tissue paper – You can use packing peanuts or tissue paper to fill up the box completely.
Thick markers – Don't forget to label every box so you can easily unpack for the next holiday season.
Pack Christmas decor separately
If you want to avoid losing your holiday decoration, pack decorations separately from other household items. This is where those thick markers come to the rescue. Use them to label each box, it will help you stay organized throughout the entire process of packing and unpacking. Also, it is really helpful if you want to put away Christmas decor in a storage unit. With each box labeled correctly, you will quickly get what you need before the next holiday season starts. Just remember to research what kind of storage services are there and what is the best one for you.
Fill up every box
So, the trick is that you don't over-pack, but also you can't leave any wiggle room. This way everything will stay damage-free during the transport. It's better to use several small and medium boxes instead of large ones. Also, you must remember to fill every box to the max, so none of the ornaments shift inside. Carefully wrap each item in bubble wrap and packing paper. Remember not to use bubble wrap on its own. It will not prevent enough shifting. So always use it with packing paper, and something to fill up the box with. You can use packing peanuts of tissue paper to fill up space between items.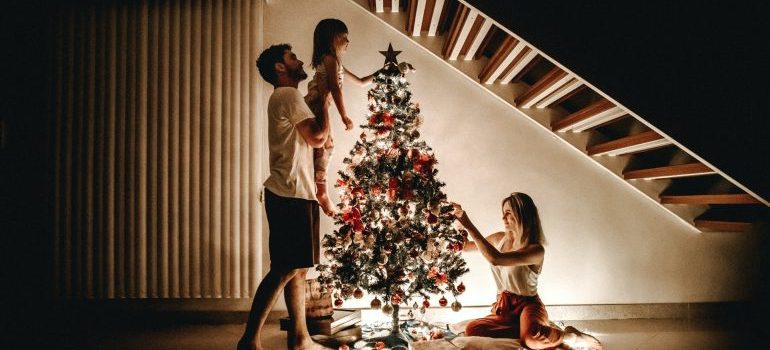 The best way to pack an artificial Christmas tree
If you want to avoid any damage or discoloration, try your best to store the artificial Christmas tree properly. Here is how you can do it. Don't make a rookie mistake and position the tree into a cardboard box. Get a tree bag. The bag will protect it from moisture and pests. But before you place it inside the bag, check if there are any broken tree light bulbs. And if there are any, be sure to replace them with new ones. Now you have to disassemble it. Carefully fold each branch so that nothing breaks. And if your tree is quite heavy, be careful if you want to avoid moving injuries. Place your tree into a bag, and store it away. Find a dry and clean room. Avoid direct sunlight. It's better to store it in a basement or closet, than in a garage or attic. Just make sure your basement stays dry.
The best way to pack Christmas tree ornaments
Christmas tree ornaments come in a variety of shapes and sizes. That's why they are quite difficult to pack. So you will need extra time to pack each ornament individually. Pay attention to glass or ceramic tree decor since they may break easily. Ideally, you saved the original packaging, but if you tossed them away, you can stick to the usual – bubble wrap, packing paper, and a sturdy box. Also, you can store small tree ornaments in an egg carton. Wrap each ornament with bubble wrap and place it inside an egg carton, then secure it with tape or a plastic band.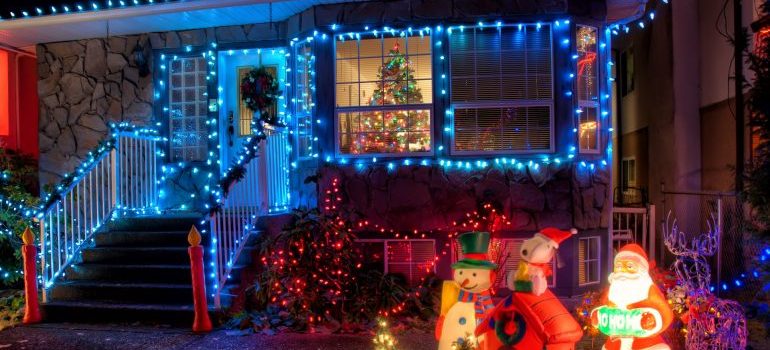 The best way to pack Christmas light decorations
Try your best to avoid tossing Christmas light decorations into a box. It will turn into a tangled mess. As well, lights could break. Surely you would like to avoid that! Instead, use a storage reel to roll the lights or wrap them around a piece of a thick sheet of cardboard. Wrap it with bubble wrap and secure it with tape. Check if there are any deadlights and replace them before packing. Packing and moving Christmas decor is incredibly easy if you take the time to do it the right way!
Now you are all set. Go to the local hardware store and get all the supplies you'll need. Pack and store your holiday decoration with care, and you'll be able to use them next year again. We hope these tips for packing and moving Christmas decor help you out along the way.