Florida is one of the most desirable places for living, and people are moving here all the time. That is the reason for often real estate shortage, as well as high property prices. You should consider living in smaller spaces and cutting your expenses this way. Moving to Florida will include hiring reliable movers such as movers Boca Raton, in case you are moving to this area.
Benefits of choosing a smaller apartment
There are several scenarios of moving to Florida. You may be:
planning to buy a small apartment and live in it,
renting it,
looking for a roommate so you can share expenses.
In any of these cases, you will need one of the moving services Florida has to offer. And there are many to choose from. Living in smaller spaces will be easier if it starts with happy thoughts.  Your moving service is important, so you can go through moving stress-free.
Whatever may be the reason for your relocation, there are many benefits to choosing a small apartment. It costs less, which is important. This kind of decision will make you get rid of all the stuff you don't really need. Also, if you are moving from a larger place, you could store your things in a storage unit. You will spend less time cleaning and organizing, and you will spend less on electric and other bills. Relocating will be easier, and decorating is as fun as in big houses but more creative. Living in smaller spaces requires you to be as creative as you can be.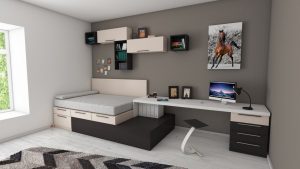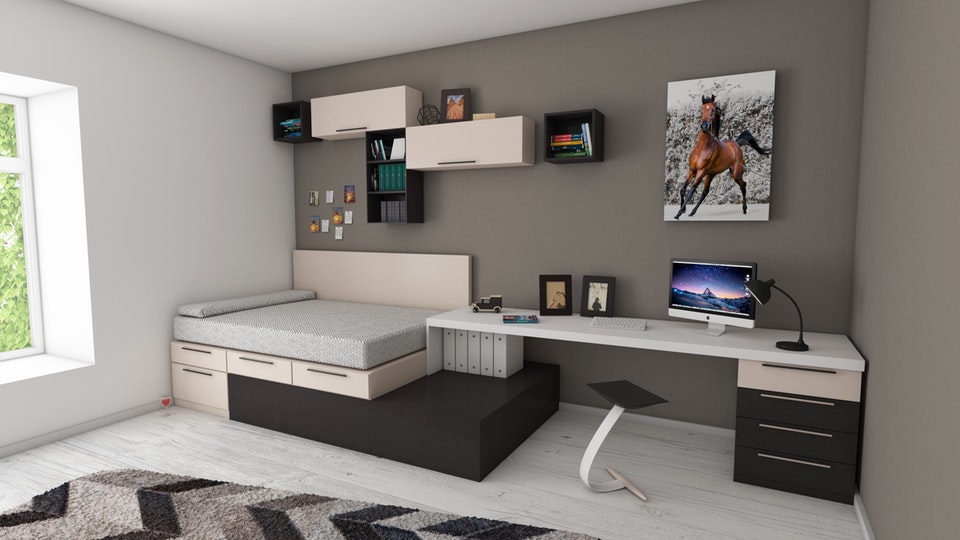 What should you choose, a small apartment or a small house?
When you really think about which one to pick, a house or an apartment, you'll realize that it's completely up to you. Think about things you should look into and make a decision about what it is that you want your home to be like. You will see that there are pros and cons to both ends, but don't let that discourage you, it just takes a little getting used to.
A small apartment
This is the right choice for you, in case you want to settle down. Living downtown or near it, so you can be close to parties and restaurants is almost impossible if you are planning to own a house. Having an apartment in a building gets you in touch with other people, and you usually get to know your neighbors. Other than that, an apartment requires less maintenance than home, so if you are busy, an apartment is definitely the right choice for you. If you choose reusable plastic bins instead of boxes while moving, you can use them to store your belongings and save space later.
Tiny house
If you are not that into partying and don't have a strong desire to live downtown, a small house is right for you. You can even get a movable house and never settle in one place. Maintainance is a bit harder if you own a house than if you own an apartment, but it can be worth it.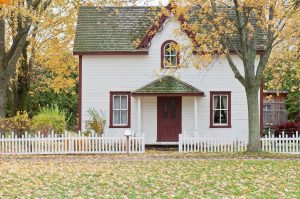 Ways to make the best out of living in smaller spaces
There are many ways to make your living in smaller spaces as comfortable as possible. The range of impact you can have on the small living space depends on lots of things. For example, if you are building a small house, there are numerous ways of planing the space so it comes out fantastic. And if you decided to go with the finished one, there are also many ways to adjust it to your needs and desires. You should inform yourself about cities in Florida that are affordable for buying a property.
Make it look bigger
The great thing about architecture and interior design these days is that there are so many ways of influencing a living space the way you like. Here is a couple of ways to make your home look bigger than it really is.
Mirrors all over the walls
It is quite a known fact, but we'll remind you, the more mirrors you hang, the bigger the home seems. The best choice might be a mirror that covers almost an entire wall, it gives a feeling of an opened space.
Windows top to bottom
If you want your new home to look bigger, you could invest in bigger windows. It is even better if you have a nice view.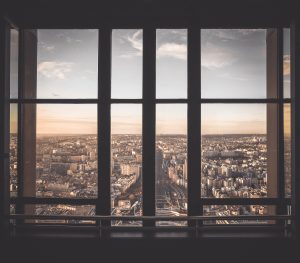 Minimalistic in every way
Keep it simple, and as minimalistic as possible. This goes for everything including decorations and furniture. You could tear down the walls so space is as opened as possible. Also, try to use fewer colors, space will look neater if it's not very colorful. Furniture should also be small, space preserving and easy to maintain. There are kinds of space-saving furniture, and it can look awesome.
Under-bed storage when you are living in smaller spaces
Great way to save the space is to store the items under the bed or staircase. You don't really use this space for anything and there are a lot of things that consume space but can be safely stored here. There are custom drawers you can put in these places, instead of just putting things randomly, it looks nicer.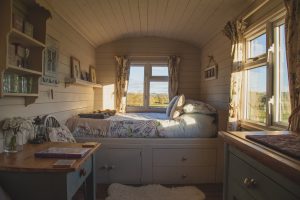 Keep your small living space clean
It is very important to keep your small apartment clean and neat. If you don't, space will look messy and it definitely makes it look cramped and small. You will feel uncomfortable, and there is no need for that. This is one of the main reasons you want to get rid of as many belongings as possible. 
As you see, living in smaller spaces in Florida can be absolutely amazing and it can work out for you as long as you know exactly what you want from it. It takes some time to get used to it, and it takes effort to keep your space constantly clean and neet, but if you manage, it can be an amazing experience. And it saves you some money, for traveling, or a bigger place someday.